Lajos Dudas & Philipp van Endert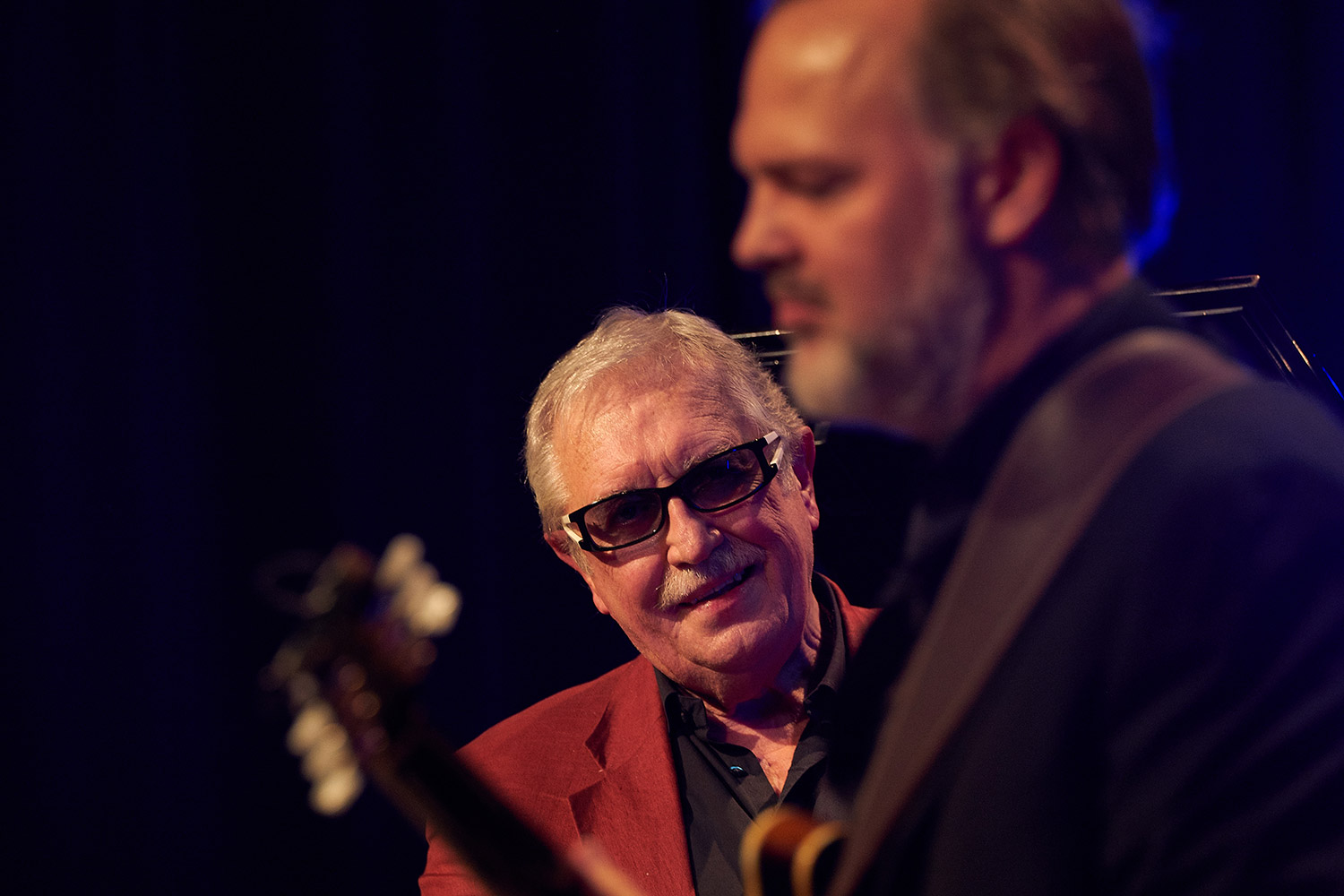 About
Lajos Dudas is the kind of artist who is constantly developing and changing – he could as well be termed an explorer, both as the interpreter of classical clarinet works or as a composer and jazz musician. Living in Germany he has established himself as one of the most important clarinet players in the European jazz scene. The french music journal Jazz Magazine honoured Dudas as "the innovator of the clarinet in modern jazz".
Guitar player Philipp van Endert differs from his colleague in his style a lot. Having graduated from the prestigious Berklee College of Music in Boston, his approach to jazz originates in modern and contemporary jazz. His style bears the inscript of the American roots passed on to him by his teachers: Steve Khan, Jon Damian, Rick Peckham and Bret Willmott.
These two artists produce more than just a simple encounter of two improvisers. Different approaches, different styles, different generations and different stories bounce against each others. An exciting dialogue arises between Lajos Dudas´ tender and free-tonal playing and Philipp van Enderts vigorous rhythm.
Über das Projekt
Eine Begegnung der besonderen Art stellt das Lajos Dudas & Philipp van Endert – Duo dar. Lajos Dudas ist ein klassisch ausgebildeter Künstler (Franz Liszt Academy of Music / Buda-pest), der sich stets verändert und wandelt: Mal als Interpret klassischer Werke, dann wieder als Komponist oder Jazzmusiker. Von der französischen Zeitschrift "Jazz Magazine" als "Innovator der Klarinette im modernen Jazz" gerühmt, gilt der in Deutschland lebende Dudas als einer der wichtigsten Klarinettisten der europäischen Jazz-Szene.
Der Gitarrist/Komponist Philipp van Endert ist zu einer wichtigen Stimme in der heutigen Jazz-Szene gereift. Seit Beendigung seines Studiums als Stipendiat des berühmten Berklee College of Music (Boston/USA) mit `magna cum laude` hat er zahlreiche Tourneen und Aufnahmen in Amerika, Europa und Afrika gespielt. Sein energiegeladenes und gleichzeitig auch lyrisches Gitarrenspiel ist bisher auf über 45 CD´s (20 davon als Leader, Co-Leader und Produzent) zu hören.
Diese Begegnung ist mehr als ein simples Zusammentreffen zweier Musiker. Hier prallen unterschiedliche Auffassungen und Stile, verschiedene Generationen und Geschichten aufeinander. Ein aufregender Dialog zwischen der Zartheit und Milde des freitonalen Spiels Lajos Dudas´ und der vitalen Rhythmik Philipp van Enderts.