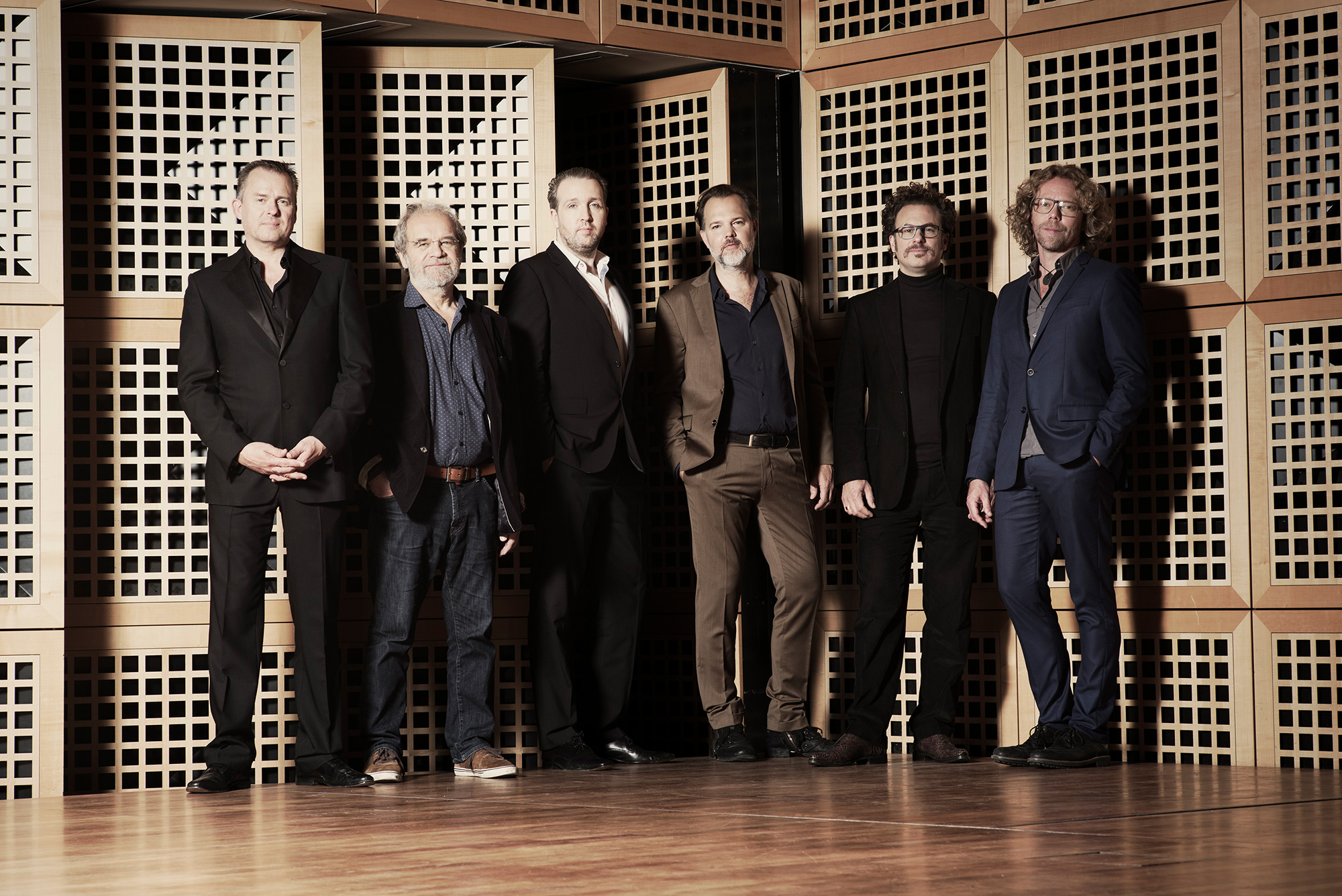 Musicians
Reiner Witzel – alto & soprano saxophone
Mathias Haus – Vibes
Sebastian Gahler – Piano
Philipp van Endert – Guitar
Nico Brandenburg – Bass
Peter Weiss – Drums
About
Mer sind alles Düsseldorfer Jonges ("we are all boys from Düsseldorf"): this title of one of the tracks could also be the title of the complete album. All the members of the Jazz Ensemble Düsseldorf are originally from the "nicest town on the Rhine" (a composition by Sebastian Gahler dedicated to his hometown). Yet they have more in common than their shared origin. The JEDs are skilled and internationally applauded artists, leaders of their own ensembles, and they are all bearer of the provincial capital´s advancement award for music. The first of the JEDs to obtain the award was Peter Weiss in 1981, the last was Nico Brandenburg in 2015.
As a sextet, the band may draw on unique varieties of acoustic colour. At the same time, this structure requires maximum flexibility in interaction to prevent the three harmony instruments from interfering with each other when comping. The JEDs master this challenge by using polyphonic themes (as in the composition of Mathias Haus), unison lines and breezy, transparent voicings.
The artistic concept is particularly clever. The repertoire covers not only compositions written by the members of the ensemble especially for this lineup, but also pieces of music with a clear reference to Düsseldorf ranging from classic to carnival. This established material transforms into made-to-measure jazz masterpieces, which sound excitingly contemporary. As a way to explore new tonal relationships the musical material is being reharmonized and rhythmically deconstructed, such as the popular melody mentioned at the beginning, Mer sind alles Düsseldorfer Jonges, which in the arrangement of Philipp van Endert becomes a canon in 7/4 time cutting larksome capers.
Über das Projekt
Mer sind alles Düsseldorfer Jonges: Der Titel eines Tracks auf der CD könnte auch als Überschrift über dem ganzen Album stehen, denn dies trifft auf alle Mitglieder des Jazz Ensembles Düsseldorf zu. Doch sie haben mehr gemeinsam als ihre Herkunft aus der "schönsten Stadt am Rhein" (Name einer Komposition von Sebastian Gahler). Sie sind erfahrene und international geschätzte Künstler, Bandleader eigener Formationen und allesamt Träger des Förderpreises für Musik der Landeshauptstadt. Von Peter Weiss, der die Auszeichnung 1981 erhielt, bis Nico Brandenburg, der sie 2015 entgegennahm.
Die Sextett-Besetzung ermöglicht einerseits eine besondere Klangfarbenvielfalt. Anderer-seits fordert sie ein Höchstmaß an Flexibilität in der Interaktion, damit die drei Harmonie-Instrumente einander in der Begleitung nicht überlagern. Eine Schwierigkeit, die das Ensemble durch mehrstimmige Themen (wie in der Komposition von Mathias Haus), Unisono-Linien und luftige, transparente Voicings großartig meistert.
Besonders clever ist das künstlerische Konzept. Denn zum Repertoire gehören nicht nur Kompositionen, die von den Mitgliedern für das Ensemble geschrieben wurden, sondern auch Stücke mit Düsseldorf-Bezug von Klassik bis Karneval. Das bewährte Material wirkt im Jazzgewand aufregend neu. Da wird nach Lust und Laune reharmonisiert und rhythmisch gegen den Strich gebürstet, etwa beim eingangs erwähnten Gassenhauer Mer sind alles Düsseldorfer Jonges, der in Philipp van Enderts Arrangement als Kanon im 7/4-Takt übermütige Kapriolen schlägt.